Washington Monument Leaning due to Quake
A 5.9 magnitude earthquake that was centered in Richmond, Virginia and felt as far as New York City and New England.
Fox News anchor Megyn Kelly reported at 2:30 pm that their bureau received information from a producer saying that a Capitol Hill Police officer says that the Washington Monument may actually be tilting as a result of the earthquake.
Seismologist John Rundle joined Kelly on her show and confirmed that the Washington Monument could very well be tilting as a result of the earthquake and the structure should be checked out.
Two nuclear reactors have reportedly been taken off line near the epicenter of the earthquake.
According to the AP:
WASHINGTON (AP) — A 5.9 magnitude earthquake centered northwest of Richmond, Va., shook much of Washington, D.C., and was felt as far north as Rhode Island, New York City and Martha's Vineyard, Mass., where President Barack Obama is vacationing.The U.S. Geological Survey said the earthquake was half a mile deep.

Shaking was felt at the White House and all over the East Coast, as far south as Chapel Hill, N.C. Parts of the Pentagon, White House and Capitol were evacuated. There were no immediate reports of injuries.

It was centered near Louisa, Va., which is northwest of Richmond and south of Washington.

Obama and many of the nation's leaders were out of town on August vacation when the quake struck at 1:51 p.m. EDT. The shaking was felt on the Martha's Vineyard golf course as Obama was just starting a round.  But not to worry, he kept golfing and is not coming home to the W.H.!

The East Coast gets earthquakes, but usually smaller ones and is less prepared than California or Alaska for shaking.At Reagan National Airport outside Washington, ceiling tiles fell during a few seconds of shaking.

Authorities announced it was an earthquake and all flights were put on hold.

At the Pentagon in northern Virginia, a low rumbling built and built to the point that the building was shaking. People ran into the corridors of the government's biggest building and as the shaking continued there were shouts of "Evacuate! Evacuate!"
[link to www.washingtontimes.com]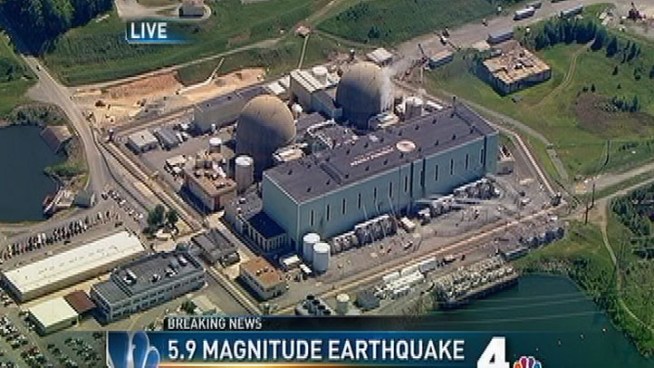 A nuclear power plant located in Louisa County, the epicenter of the earthquake in Virginia, has shut down.
The North Anna Power Station, operated by Dominion Power, has two reactors.  Both reactors tripped automatically at the time of the quake and shut down.
The plant declared an "unusual event" in the wake of the 5.9 magnitude quake, which is the lowest stage on the plant's emergency scale.
As a result, the plant has been shut down.
The AP reports the plant is being run off of four emergency diesel generators, which are supplying power for critical safety equipment.
Nuclear Regulatory Commission spokesman Roger Hannah says the agency was not immediately aware of any damage at nuclear power plants in the southeast.
NRC officials are still assessing the situation.
Related Reports:  Two Nuclear Reactors Shut Down by D.C. Quake
There have been 12 earthquakes in CO in the past 24 hours. see list below Article:
Could be La Garita Caldera waking up. [link to en.wikipedia.org]
The area devastated by the La Garita eruption is thought to have covered a significant portion of what is now Colorado, and ash could have fallen as far as the east coast of North America and the Caribbean. The scale of La Garita volcanism was far beyond anything known in human history. The resulting deposit, known as the Fish Canyon Tuff, has a volume of approximately 1,200 cubic miles (5,000 km3), enough material to fill Lake Michigan (in comparison, the May 18, 1980 eruption of Mt. St. Helens was only 0.25 cubic miles (1.0 km3) in volume). By contrast, the most powerful human-made explosive device ever detonated, the Tsar Bomba or Emperor Bomb, had a yield of 50 megatons, whereas the eruption at La Garita was approximately 105 times more powerful. It is possibly the most energetic event on Earth since the Chicxulub impact, which was 50 times more powerful.
Tuesday, August 23, 2011 3:43:31 AM · by marsh2 · 8 replies
Region: COLORADO Geographic coordinates: 37.137N, 104.671W Magnitude: 5.5 Mw Depth: 4 km Universal Time (UTC): 23 Aug 2011 05:46:19 Time near the Epicenter: 22 Aug 2011 23:46:19 Local standard time in your area: 23 Aug 2011 05:46:19 Location with respect to nearby cities: 5 km (3 miles) W (259 degrees) of Cokedale, CO 13 km (8 miles) W (279 degrees) of Starkville, CO 15 km (9 miles) WSW (255 degrees) of Trinidad, CO 126 km (78 miles) S (182 degrees) of Pueblo, CO 289 km (180 miles) S (175 degrees) of Denver, CO
2 more earthquakes
| | | | | | | |
| --- | --- | --- | --- | --- | --- | --- |
| | 3.9 | | | | |   14 km ( 9 mi) SSW of Cokedale, CO |
| | | | | | | |
| --- | --- | --- | --- | --- | --- | --- |
| | 2.6 | | | | |   16 km ( 10 mi) SW of Cokedale, CO |
Tuesday, August 23, 2011 7:26:03 AM · 14 of 14
Whenifhow to marsh2
Two more
MAP 2.1 2011/08/23 10:40:09 37.556 -105.031 5.0 6 km ( 4 mi) NNW of La Veta, CO
MAP 2.3 2011/08/23 10:29:32 37.149 -104.608 4.7 1 km ( 1 mi) ENE of Cokedale, CO
Post Reply | Private Reply | To 1 | View Replies
Tuesday, August 23, 2011 7:20:46 AM · 13 of 14
Whenifhow to marsh2; Quix; NorwegianViking; ex-Texan
There have been 8 earthquakes in Colorado in the past 2 days.
http://earthquake.usgs.gov/earthquakes/recenteqsus/Quakes/quakes_all.php
MAP 3.2 2011/08/23 09:37:57 37.099 -104.711 5.0 9 km ( 6 mi) WSW of Cokedale, CO
MAP 3.8 2011/08/23 07:17:58 37.099 -104.610 4.8 5 km ( 3 mi) S of Cokedale, CO
MAP 3.2 2011/08/23 07:01:35 37.109 -104.550 5.0 2 km ( 2 mi) WSW of Starkville, CO
MAP 3.5 2011/08/23 06:56:59 37.110 -104.722 5.0 10 km ( 6 mi) WSW of Cokedale, CO
MAP 5.3 2011/08/23 05:46:19 37.070 -104.700 4.0 11 km ( 7 mi) SW of Cokedale, CO
MAP 3.0 2011/08/23 02:48:52 37.056 -104.726 5.0 13 km ( 8 mi) SW of Cokedale, CO
MAP 4.6 2011/08/22 23:30:20 37.050 -104.774 5.0 17 km ( 11 mi) SW of Cokedale, CO
MAP 2.9 2011/08/22 13:52:34 37.094 -104.709 5.0 10 km ( 6 mi) SW of Cokedale, CO
Trinidad, Colorado earthquakes are near the ancient Raton volcanic hotspot
http://thedailybite.wordpress.com/2011/08/22/trinidad-colorado-earthquakes-are-near-the-ancient-raton-volcanic-hotspot/